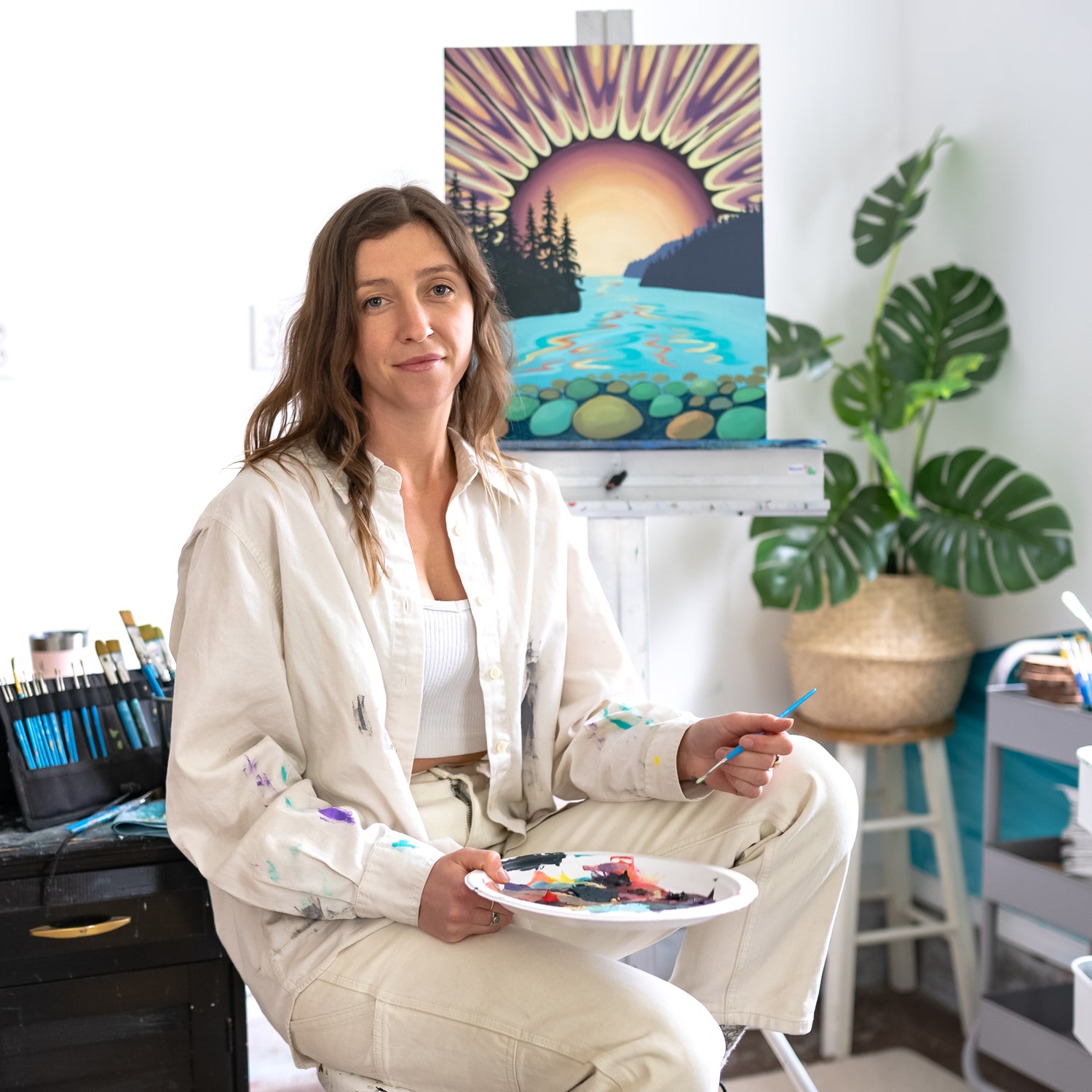 Professional Bio:
Gianna Andrews is a contemporary fine artist inspired by her love for the natural world. Whimsical elements mixed with bold lines and colorful expressions flow from the canvas in her acrylic paintings. Her signature style comes to life not only on large-scale canvases but also on salvaged wood pieces and other unique mediums.
While receiving a bachelor's degree in environmental studies at Montana State University, Gianna sustained a mountain biking accident and broke her back. Confined to a clamshell brace for months, Gianna tapped into a hidden talent and discovered how to synthesize her love for the outdoors with creativity. This served as the foundation for an unexpected career as an artist. 
Gianna's work gained attention with a growing social media following and has been featured in collaborations with brands such as Lib Tech, Alaska Heli Skiing, Stanley, Outside Inc., 10 Barrel Brewing, Juneshine, Joe Chocolate, Sierra Nevada Brewing and more. 
By sharing her art with the world, Gianna hopes to inspire others to reach for their dreams while protecting this planet we call home.
Exhibitions
Summer Camp, ShockBoxx Gallery, Hermosa Beach, CA, June 2023
Solar, Pour-d Gallery, Rockford MI, June 2023
Arts Explosion, Federal Way Arts Commission, Federal Way, WA, June 2023
Bellissima! (Online Exhibition), KBM Art Gallery, Riverside CA, May 2023
"Alpine Artist Gallery" Snowvana Featured Artist, Portland OR 2019, 2021, 2022
Single Fin Art Show, benefitting A Walk on Water, Women's Surf Film Festival, Rockaway, NY 2021
Gianna Andrews x JuneShine Popup, Bellingham, WA 2020
Solo Art Exhibition at Trew Gear, auction of hand painted jacket benefitting Mount Hood Institute, Portland OR 2019
Backcountry Film Festival - Silent auction featuring hand painted chairlift benefitting Winter Wildlands Alliance, Boise, ID 2019
10 Barrel Brewing Summer Tour - silent auction featuring original painting benefitting The World is Fun nonprofit, 2018
Gianna Andrews x Joe Chocolates Art Opening, Seattle, WA 2018
SIA Featured Artist - live painting at Outdoor Retailer, Denver, CO 2018
"Chimera" evo Seattle, WA 2017