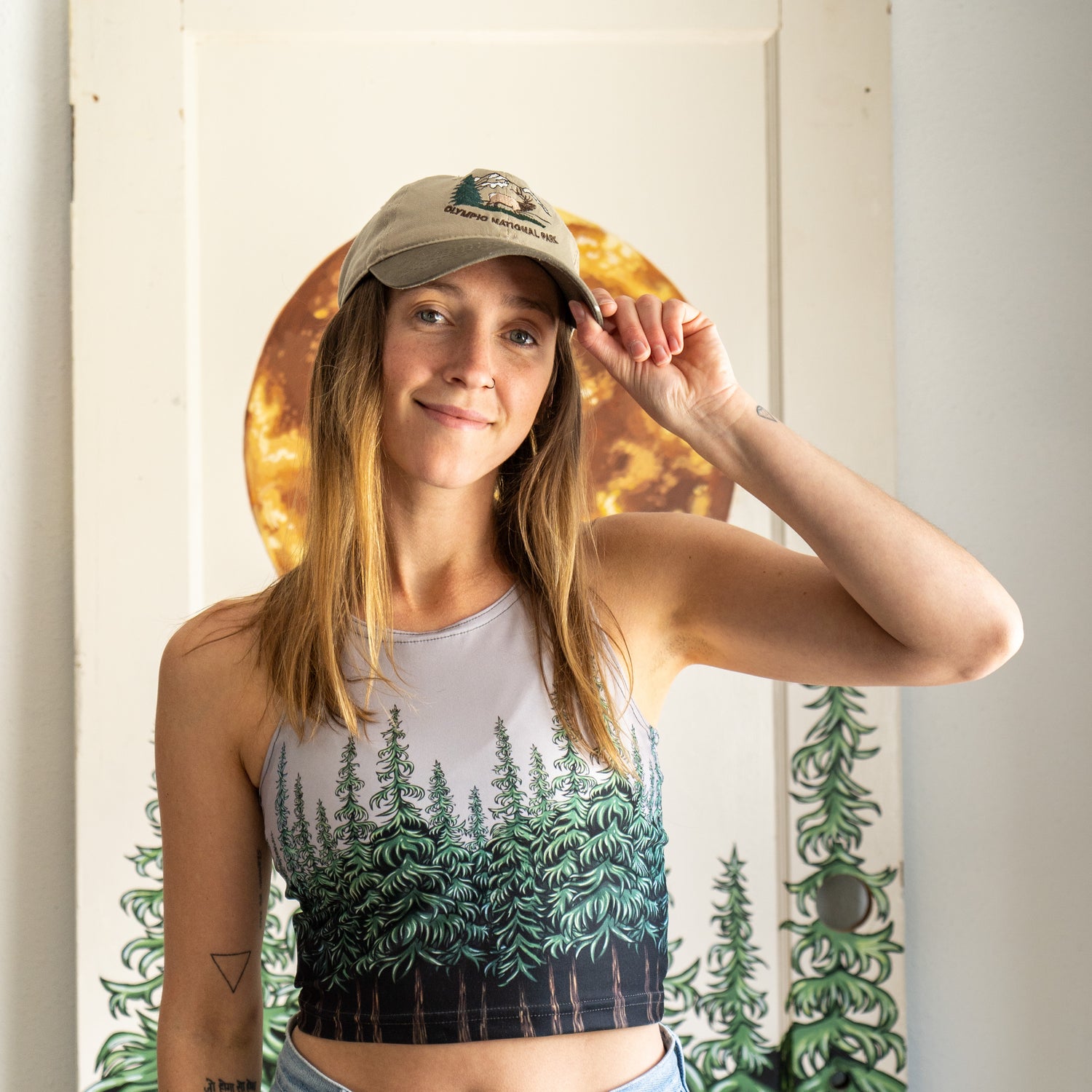 Hi, I am Gianna!
Let's start at the beginning, shall we?
My Story
Born and raised in the Pacific Northwest on an island accessed only by ferry, I've always had nature etched into my soul. I grew up building forts in the woods, turning over rocks on the beach to find crab colonies, and eating mouthfuls of strawberries in the patch behind our house.
Dad was the adventurous one, always trucking me "off island" to the mountains, teaching me to ski and rock climb before I can remember. I was just trying to keep up with him on the trail.
Mom was the creative one, always setting up arts and crafts for us to make.
Backpacking trip with Dad at eight years old
As a child, I vowed that when I grew up, I would find a way to be on stage, expressing myself creatively in something I had mastered. I took acting, singing, and piano classes, as well as horseback riding and dance lessons. But none of it really seemed to stick. I remember complaining to my mom how I just needed to find my thing. What and where was my hidden talent?
I became obsessed with skiing in high school, and even though we lived two hours from the mountain, plus a ferry ride, I made the voyage up there a couple of days a week. Skiing became my thing. So when it was time for college, I picked a town where I could live closest to the mountain and still go to school: Bozeman, Montana.
Bridger Bowl, Montana (2014)
I had always been concerned about the environment and climate change, so I settled on an environmental studies major. My studies reinforced my notion that we are already living in the middle of the sixth mass extinction on the planet. I began to lose hope for the future of humanity. I began to feel despair.
I drowned out my despair in extracurriculars—extreme sports and college parties. In Bozeman, everyone was an athlete and getting after it constantly. I felt like I fit right in. But was I just trying to keep up, as I had with my dad all those years before?
On a whim I enrolled in a few electives, specifically a drawing class and then a painting class. I had no idea what I was doing, but somewhere toward the middle of the semester I found my flow. I absolutely loved painting. Though I had taken art classes in high school, I had never painted at an easel before. The professional instruction helped bring my talent to life. Had this inherent talent been there all along, since those days of making arts and crafts as a kid with my mom?
Great Wide Open (2014): capstone piece for painting class
By the end of the painting class, my capstone piece was far beyond anything I could have imagined creating. I felt alive. Maybe this was my thing. I wanted to further pursue my art studies. I wanted to change my major to fine art. But that would mean starting over in my prerequisites and student loan debt. Plus, who actually makes a living as an artist?! There's a reason they are all starving. After the class concluded, my paints began to collect dust in the corner.
If my thing wasn't going to be art, then it had to be mountains. I couldn't imagine sitting behind a desk all day working for some environmental nonprofit. To push myself further toward this mountain-athlete dream, I completed my EMT certification and spent the winter as a ski patroller. Then I really took things to the next level by enrolling in a mountaineering National Outdoor Leadership School (NOLS) course all the way across the world, in the Indian Himalayas. Wanting to test my limits, I soon found myself on a seventeen-hour flight to New Delhi, my college friends and mountain town left behind.
A group of thirteen, we began a forty-five-day journey circumnavigating a remote area of the Indian Himalayas—thirty-five days of which were spent above the tree line in snow and glacier travel. After leaving the last mountain village, we didn't see any other humans for over a month. We saw avalanches that rumbled our core, we got faces full of blisters from sun exposure, we were cold, and then we were overheating. It took hours to boil water. Not to mention, forget about showering or even being clean—ever. It was one of the most grueling experiences of my life. I had found my limit.
NOLS Himalayan mountaineering group
I thought I would leave the course all fired up to be a mountain guide . . . a ski mountaineer pursuing summits. But all I wanted was to lie on a warm beach and sleep in a comfy bed. So at the end of the course, a friend and I set off to travel down the west coast of India.
Me with a local cow in Goa, India
We spent six weeks taking buses and trains south, swimming in the warm water of the Arabian Sea and practicing yoga and meditation at an ashram. In our experience, India was a difficult place to travel as two young, solo females. We had several run-ins where I questioned if we would make it out unharmed. But southern India was also magical—the culture, the scenery, the way spirituality melds beautifully into their daily life.
Me at Yoga Ashram, Kerala, India
Eventually I was ready to come home. I had a vision while meditating in the ashram that I was back in Bozeman riding trails on a new mountain bike. Plus, I had an inkling that I wanted to paint, and I hadn't stopped drawing in my sketchbook while I was away. So I flew home, bought a brand-new Santa Cruz bike, and started riding every day. Not six weeks after my return from India, I was downhill mountain biking with some new acquaintances when I landed a jump wrong, flew over the handlebars, and scorpioned my back.
New mountain bike (photo snapped one day before the accident)
I hit the ground so hard I thought I'd popped a lung. I felt shards of my teeth in my mouth. Adrenaline kicked in, and I sat up, pulled my phone out of my pocket, and instinctively dialed 911. Thank goodness I had service. By the time the operator was on the line, my friends had gotten to me and took over the call. I sat there in blistering pain for forty-five minutes, rigid, bleeding everywhere, waiting for the medics to arrive . . . knowing I had broken my back.
Awaiting a CT scan in the ER
After an excruciating hour-long ambulance ride and about fifteen hits of morphine, I was lying in the ER, waiting to get a CT scan. Above me stood my new acquaintances, who had driven down the mountain separately from the ambulance. One of them was Rachel Pohl, a well-known artist in the Bozeman community at the time. I had always admired her, so I couldn't believe that our first time hanging out I happened to be in this disheveled state.
I remember the next moment so clearly: I looked up at her and said through my broken teeth, "What am I going to do now?!" She looked down at me, smiling, and said, "You're just going to paint." That moment sealed the deal. It was time to pick up the paintbrush again.
Ten days in a hospital bed

Walking with ski poles in the clamshell brace
I spent ten long days in the hospital. Several of them were waiting to find out if I needed to get surgery for my burst T7 vertebra and fractured T6 vertebra. I didn't get out of bed for the first half of my stau. But slowly I got back on my feet and learned to walk in a clamshell back brace.
Many friends came to visit, and the visitors made me feel like I wasn't dying. I told everyone that from then on I was going to be an artist. I was on such a high level of painkillers that I was in a constant state of delirium. The doctors said that my back would never be the same but that we were going to go the noninvasive route and avoid surgery.
Photo 1: Leaving the hospital in a back brace
Photo 2: Gianna's fractured vertebrae
My mom flew me back home to the tiny island of my childhood, as I needed help getting in and out of bed and showering. For two months I lived in the clamshell back brace, trapped on the little island where I had grown up. I felt isolated. I was far away from my friends, the mountains, and the life I had been building. But I had my easel and my paints. I spent most days at the easel with my back cramping, painting mountain scenes.